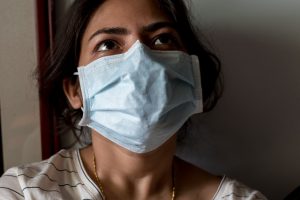 We are now in the Corona era. That means there is a lot of face mask wearing especially in public. The pandemic has brought about a change in the way we conduct business and go about our daily lives.  The truth of the matter is that the new normal requires a lot of proper face mask wearing. This means as a lady concerned about their appearance it's going to be quite the struggle to keep that make up on. Many women have been complaining of their makeup coming off in public. This honestly could be a blow to your esteem!
Techniques to prevent make up from being wiped off  
Complexion Prep to prevent make up from being wiped off:

Before applying your makeup it's better to first ensure you are using the right skin care products for your face. This will ensure that your skin is the perfect canvas for makeup. Try and avoid petroleum based moisturizers It's quite effective when you use serums to prepare your face.

Consider your formula when wearing a mask to avoid your make up being wiped off.

Another important factor to consider when applying a solid foundation for your mask is to stick to powders or effective light weight liquids. This will create an opaque finish.

Highlighting and contouring:

When highlighting and contouring it important to remember to pay specific attention to those cheeks. The advantage with most modern highlighters is that they come in powder formulas.

Lip make up.

When preventing a face mask from wiping off your makeup its quite essential not to forget your lips When it comes to the lips the secret is technology. If you are going in public places and will be wearing a face mask I strongly suggest to consider a stain instead of balms and glosses.